Noonan & Associates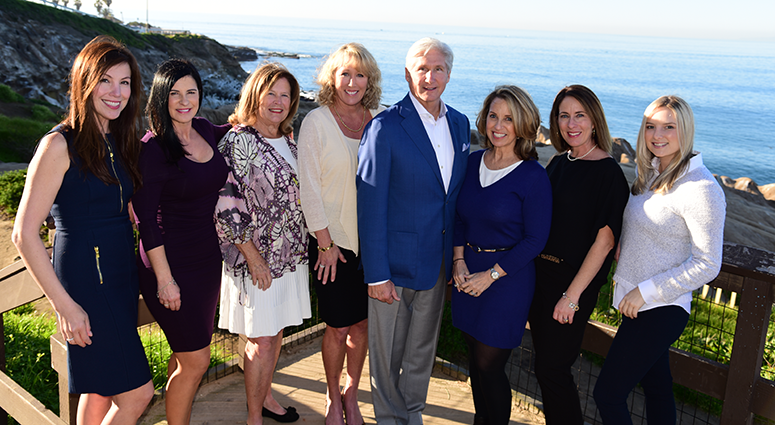 Kristin Elise Link (858) 551-3310 | Executive Assistant to Greg Noonan | Sales Associate | CA BRE #01952028

Kristin is a rare La Jolla "native" whose extraordinary service earned her the title of "Rookie of the Year" when she first joined the company in 2014. Kristin's superb organizational skills, work ethic, and sincere concern serves our clients well, and she is available to assist you with all listing coordination and transactional concerns. Kristin is an avid painter and art connoisseur who enjoys travel while always happy to return home to La Jolla.
Sarah Chapman (858) 551-3309 | Escrow Coordinator | CA BRE #01952028

Sarah was Greg's first assistant back in the 1990's and, after a 22 year "time-out" to raise her beautiful family of three successful college-age children, Sarah finally answered endless pleas to return to our office. Sarah's calm, level demeanor and exceptionally astute attention to detail smooth the inevitable hiccups that occur during escrow and she will be a great help to you.
Micaela Brady Jeffery (858) 551-3303 | Sales Associate | CA BRE #01278120

A rare native of La Jolla and graduate of La Jolla High School and Colorado State University, Micaela is a determined, hard-working, skilled and successful negotiator who holds her own against the most experienced agents in town, earning her ranking among the top 3% of 68,000 Berkshire Hathaway agents in the country. Micaela has proven time and time again she represents our clients interests with the highest standard of integrity, expertise and care. Micaela and her husband, Stephen, are the proud parents of daughters, Laine, Cecily, and Milly, and live in the Muirlands.
Michelle Kearney (858) 395-4554 | Sales Associate | CA BRE #01357438

Michelle was an active agent with Berkshire Hathaway in Rancho Santa Fe and Del Mar before moving to La Jolla with her husband and their children and joining Greg's office. An active community member involved in several charities, Michelle has worked in many areas of real estate including mortgage and title, giving her clients the advantage of her wide experience in the field. Call Michelle anytime– she will be delighted to be of help.
Ryley Noonan (858) 349-6620 | Sales Associate | CA BRE #01913701

A La Jolla native and graduate of Santa Clara University, Ryley is continuing the family tradition of achieving our clients' success with the highest standard of ethics and integrity where his natural talent and studied skill are keeping our buyers and sellers solidly at an advantage through all aspects of real estate service. Like his dad, Ryley has a no-pressure, clients'-interests-first career philosophy, and you can rest assured he is protecting your interests while fulfilling your needs. Please call Ryley anytime to discuss your real estate needs. He is ready to go to work for you today!
Julie Labbe (858) 245-2701 | Sales Associate | CA BRE #01135842

An active agent since 1992, Julie specializes in residential and income properties in the Pacific Beach area where she grew up and in Clairemont, and has owned her own successful property management and home services companies for 25 years. Julie and her husband, Ken, have two children and four grandchildren. Feel free to call Julie with any questions you might have; she is delighted to be of help.
Christine Greer (858) 551-3302 | Sales Associate | CA BRE #01068649

La Jolla native, Christine, worked as Greg's lead assistant, marketing associate and escrow coordinator in the 90's before leaving to raise her two sons and we are delighted she is back in action. A graduate of SDSU and a resident of the Muirlands, Christine is exceptionally experienced with all facets of real estate transactions and can help you consider every factor of your decision while ensuring your best interests remain the only priority. Call Christine anytime. She will be happy to be of help to you.
Carole Clancy (858) 551-3302 | Sales Associate | Escrow Coordinator Emeritus | CA BRE #00804851

A superb real estate agent with 38 years of experience and a consistent leading producer with Grubb & Ellis for many years, Carole worked in the office adjacent to Greg's for 15 years before agreeing to work as his assistant in 1996. Carole enjoys the active pace of Greg's business, and is extraordinarily well-qualified to assist you with all real estate matters including showings, contracts, escrow, financing, and inspections. Semi-retired, Carole and her husband, Jack, enjoy their four children and four grandchildren and own a charming Barber Tract cottage at the beach in La Jolla.

 
Marilyn Noonan | Marketing Associate

Marilyn is an advertising director who works exclusively with Greg and Berkshire Hathaway's corporate marketing team to design a personalized program to showcase your home. Marilyn works diligently to provide you the most effective, innovative, and comprehensive exposure available, including the most extensive and exclusive proprietary positioning on the internet. (Marilyn is also Greg's wife and the mother of their four sons.) Watch for your internet placements; they bring results!